Tree Plantation Drive
ACADEMIC SESSION 2019-2020
SENIOR SCHOOL
As a part of the mission 'Tree Plantation Drive in the Delhi Schools-Greening Delhi/ Van Mahotsav', to make Delhi Green and Pollution free, a plantation drive was organised on Friday, 9thAugust, 2019 at Summer Fields School, Kailash Colony, New Delhi to create awareness and spread the message of Saving our Planet- 'Protecting our environment is the need of the hour.'
The School Principal Dr Neeru Suman and Teachers accompanied the students to plant saplings in the school premises. The Students participated in various other related activities to highlight the importance of Clean and Green Delhi.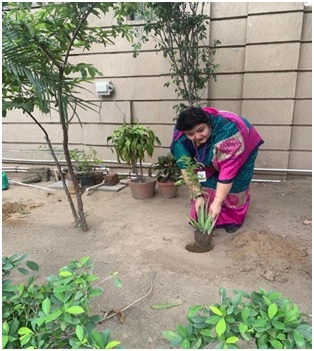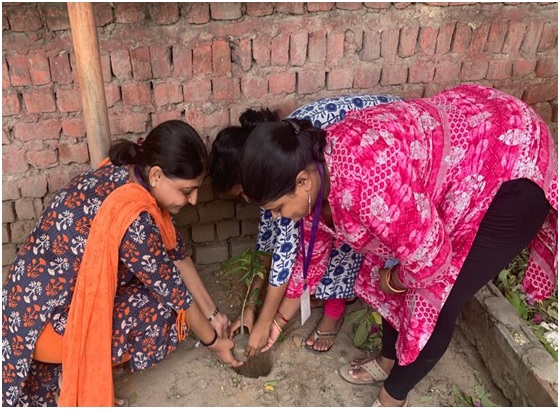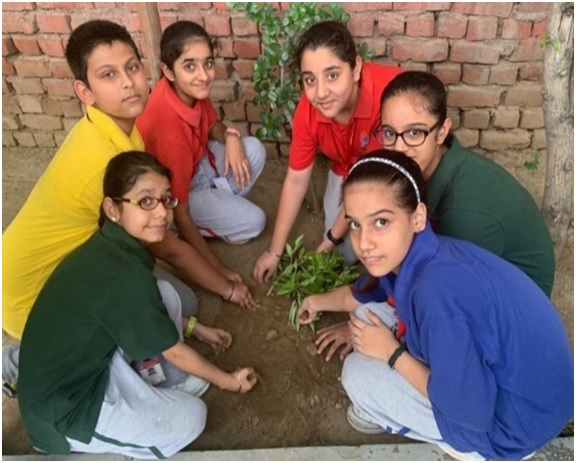 ACADEMIC SESSION 2019-2020
Tree Plantation Drive
"Plant a Tree…………Live a Dream"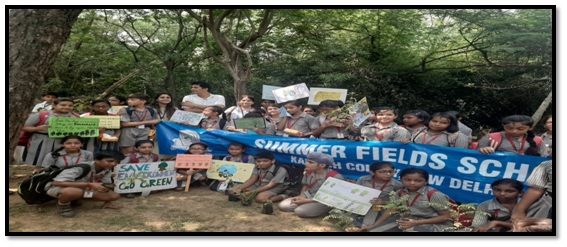 Fifty students from class V participated in a tree plantation drive on 30thAugust, 2019 at the Jahanpanah City Forest.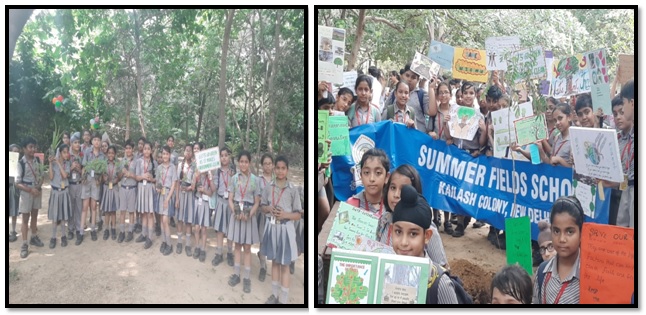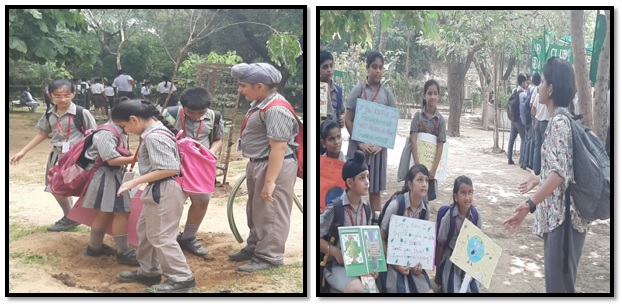 This drive was initiated by the local MLA Mr. Saurabh Bharadwaj who interacted with the people of his constituency while making them aware of social issues such as the importance of planting more trees and keeping our city clean and green.Students planted trees in the Jahanpanah City Forest.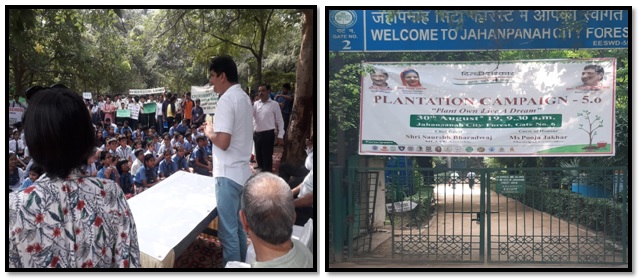 The  students greatly benefitted from this experience. Not only did they understand the importance of larger issues like planting more trees in our city, but they were also enriched by the experience of having interacted with a young and dynamic personality as Mr. Bharadwaj. They closely witnessed and had a glimpse of the life and work of the humble Gardener. The students also realized that they are not alone as a unit in their school but a part of a larger community with their neighborhood and surroundings.
ACADEMIC SESSION 2018-2019
REORT ON TREE PLANTATION
Students of Class III participated in mega tree plantation drive held on 8 Sept 2018 at Jahanpanah City Forest which was launched by Delhi Government to curb the growing menace due to air pollution. Summer Fields students joined hundreds of others by planting a sapling. Mr. Saurabh Bhardwaj MLA of Greater Kailash constituency was the chief guest for the event who encouraged the students to plant saplings near their house and take care of them. He further said that the aim of the drive was to effectively enhance the green cover of Delhi which will have a long lasting effect on air pollution control.
PARK DEVELOPMENT PROJECT
Summer Fields School in partnership with CMS (Centre for Media Studies) has taken up the opportunity to improve the environmental conditions under "Friends for Change" program funded by Disney India.  A total of 123 schools from Delhi-NCR have applied in the program out of which 10 schools were shortlisted based on their proposals, detailed plans and series of presentations. SFS was selected to develop the park at the Mahavir Temple complex situated adjacent to the school premise in the heart of South Delhi's most crowded neighbourhood. The park is on a hilly terrain with a great view to the city. The area in the south and west of the park is degraded and offers a great scope for improvisation.
A 10-member core team was constituted which included the Principal, nodal teachers, students, parents and community members to carry out the development work. The aim of the program is threefold i.e. improving environment outside school, maximum learning by students (learning by doing) and spreading awareness among people about Delhi's native and sustainable plants.
Under the program, 100 students from 6th to 9th grade from Summer Fields School will carry out the plantation and upkeeps works amid school hours (2pm-4pm) on Fridays and socially useful productive works (S.U.P.W.) sessions. The program will involve developing the site with native plants and trees like Dudhi, Chamrod, Barna, Karonda, Gundi, Khirni, Kala Sirus, Amaltash, Babool, Kaim, Dhak and many more. The unused terraces will be developed with herbal plants with medicinal value including Basil, Ashwagandha, Mint, Sadabahar, Aloe Vera, Lemon Grass etc.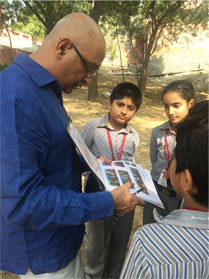 An amphitheater will also be constructed with a sitting capacity of 25-30 people for conducting awareness sessions for the students, visitors, temple devotees and can be used for community gatherings. The park and temple has high visitation, which generates lot of waste. Composting pits will be introduced for processing large amount of leaf debris and dustbins will be installed to segregate biodegradable waste that can then be composted.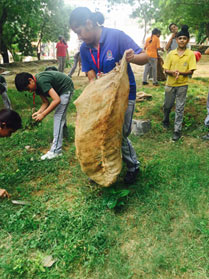 The program will be completed in 4 months and will offer a cleaner and greener environment to the adjoining community.
REPORT ON MICROSOFT CREATE TO INSPIRE PROGRAM
"Summer Fields School" has been selected as one of the leading schools of South Delhi to be a part of Microsoft Create To Inspire School Program. Keeping up with same, on 29th October, 2015  a workshop was conducted on Sustainability by Microsoft group. The workshop was to train teachers for conducting 14 tool kits in their respective schools and bringing about a measurable impact on the children, who are the future of our society. These toolkits are in line with CCE curriculum. This project when conducted in school will develop 21st century skills in our students, making them responsible citizens of our country.
The objective of the workshop was to sensitize the students towards environment. The programme objective is to build a school culture that offers a vision of innovation, enables teacher collaboration, and sharing of teaching practices. The programme intends to build the capacity on using new pedagogies and creating conditions for deep learning by implementing the provided environmental curriculum linked to existing subjects. The program is an enabler for 'Swach Bharat' and 'Smart Citizenship'.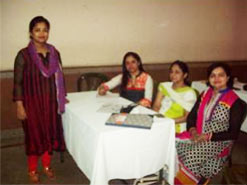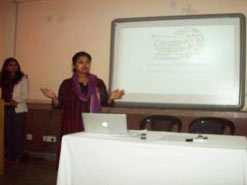 The teachers and students of Summer Fields School have already started working on this project. Many interesting activities have been incorporated. They are linked to the topics like Natural Resources in subjects like Social Studies and Social Science. Students can also use simple maths operations to complete the activity.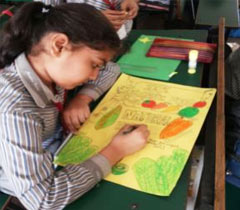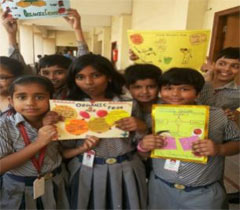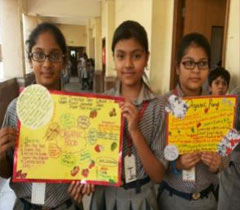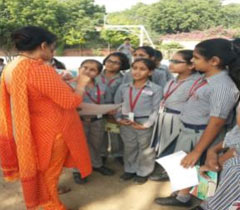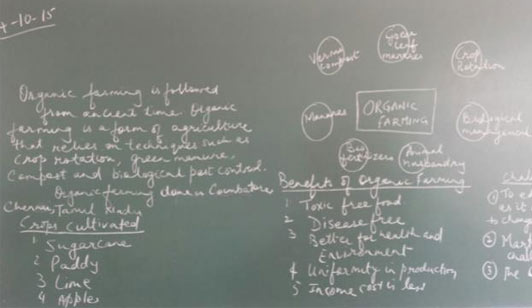 GREEN SCHOOL PROGRAMME
Our School has been awarded the 3rd rank in Delhi State–level under the new school category, at an award ceremony held on March 28 at India Habitat Centre.
Tree Plantation drive.
With a objective to sensitize children about our environment so that they become aware and contribute towards saving our mother earth willingly for greener present and future. A Tree Plantation Drive was organized as a part of 'Green Leap Drive' by the Department of Environment and Forests Govt. of Delhi. This program helped  to motivate students to keep surroundings clean and green. More than 600 saplings were planted given by Govt. of Delhi.

CLEANEST DAY DRIVE

was organized to create awareness among public and sanitary workers to stop the indiscriminate burning of waste or leaves that cause air pollution.
 BEFORE
 AFTER

E-waste  : As a part of Nokia's 'Planet Ke Rakhwaale' Campaign about E-waste, many old and obsolete mobile handsets, mobile batteries, chargers and other phone accessories were put into the recycle bin provided by Nokia to encourage students to imbibe life styles, supportive of minimum waste generation, separation of waste at source, disposing of waste at the nearest storage point.
The use of plastic bags was condemned. Cloth and paper bags were prepared and distributed in the school and nearby market areas to generate awareness about THE ERADICATION OF PLASTICS.
Waste paper management was initiated During the first pick 1.2 ton waste papers collected were sent to a recycling unit and in lieu of that school received 33000 A4 – sheets which was 100% recycled paper free of elemental chlorine .

VISIT TO N.G.O. SCHOOL-Sensitizing students
 

38 students of class XI visited Shanti Sahyog , a Gandhian N.G.O. in Kalkaji. They also had an interactive session with Dr. Suman Khanna Aggarwal, the Founder President of of Shanti Sahyog.

The visit which was a part of voluntary social service went a long way in sensitizing our students to the plight of the poor in society and helped in bringing about a sea change in their perspective